It's been a week since the STGCC and I still can't get over the fun and excitement of meeting old and new friends. For the most part of my stay in Singapore, I was with my college friends just eating, drinking and having fun!
I was even more delighted when visitors from last year's con dropped by to say hello and buy my prints. Btw, half of the Weeping Widow prints sold out during the first two hours! Woohoo! So some of them came as newlyweds and others came with toys and food. Some stayed for a while and looked after my booth when I needed to stretch and go around the hall. Thanks a lot guys!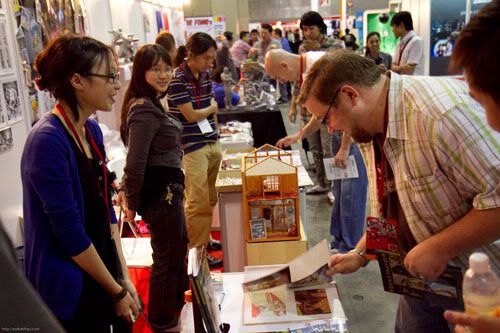 Marvel Senior VP CB Cebulski at the artist alley. Photo by
Parka
I also had a nice chat with
Wrecker Tike
hours before his flight back home and got some valuable tips from the recovering Andy of
toysrevil
who unfortunately were both unable to join this year. Big thanks to Hanni and to Ernanbot for buying me some kidrobots. This means I'm doing more custom toys!
Unfortunately, I don't have enough pictures to share for now as I was too lazy to bring my own camera. Again, I relied on
Asuka
.haha Maybe I'll post some photos on my facebook page once I sort them out. You can also check
Toysetc
and
Parka Blogs
for an in depth account of the three-day event.
My participation to STGCC 2010 wouldn't have been possible if it weren't for my awesome friends
Bella Sinclair
, Ponkan and Menk. If you're reading this, thank you guys! And to all my friends and visitors who made it all worthwhile, thank you very much! I hope to see you again next year.