Yoli
loves fencing and everything that is associated with swords. She told me that two years ago when she intended to commission an artwork from me. Unfortunately, we both got very busy and we had to postpone it. But Yoli and I never lost touch, we visited each other's blog and we became friends in the process. I also got a glimpse of how loving a mother she is to her three Chinese children: Sally, Little Man and Paloma.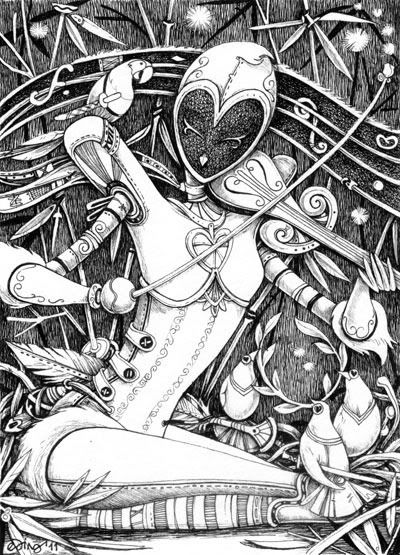 "Touche"
, 5 x 7", Pen and Ink
It's not difficult to draw for a generous and kindhearted person like Yoli. In fact, I already had this image of her serenading three fledglings in the middle of an enchanted bamboo grove long before I decided to take on this commission. It was just a matter of overcoming the confidence she has in me to do an artwork for her.
Here it is, I hope it was worth the wait my friend.:)