I've neglected this blog for too long. I didn't notice that it's almost three months since the last time I posted. But I had been so busy to blog about my art. I even missed my yearly art summary. So for those who don't follow me in facebook, here's the long overdue summary of the illustrations and toys I created last year.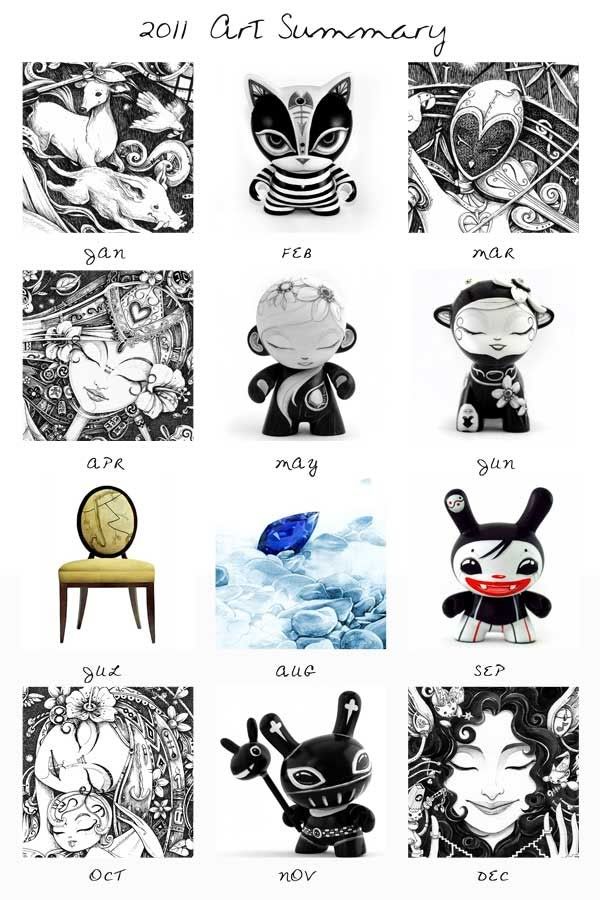 Looking at this, I realized that I spent the most part of 2011 customizing toys. The year went by unnoticed and I painted a total of 45 toys. That's almost a toy per week. Not bad for my painting practice but I still have a lot to learn.
I really love toys and enjoy creating my own designs on this platform. It serves a breather for my illustration projects and my stepping stone to becoming a painter. Hopefully this year, I can apply everything I learned in painting to all my projects. Wait, that didn't sound right. I will still be customizing toys! If you like my designs, you can
email me
to get updated with the next toy release later this week.
But if you're here for some pen and ink goodness, don't worry, I am still drawing. In fact, I'm currently working on the largest illustration of my life. Just don't forget to check out
my facebook
in case I don't post it here.:D