"Sakana No Oshiro"
(Fish Castle)
9x12, Acrylic on Arches paper
A friend of mine informed me about an art show dedicated to Studio Ghibli and also urged me to give it a try saying that my style will go well with Hayao Miyazaki's art. I agreed to participate and planned to make a pen & ink rendition of Spirited Away. Unfortunately, the show didn't push through.
At that time, I was planning to quit pen and ink for good and try my hands on acrylic instead. I was just looking for the perfect opportunity when my friend Darth Vader told me she wanted to commission a Ghibli-inspired painting. I was hesitant at first as I didn't want to disappoint her with whatever comes out of my second attempt at acrylic.:P However, I don't think anyone can ever say no by the way she boosts one's confidence.
This 9x12" painting took me quite a while to finish. 90% of the time spent on mustering up the courage to hold a brush again. There are an infinite number of details that I could still put into it. But I had to send this fish castle and a few more surprises along to my friend to appease and sort of remind them of their "lost Disneyland adventure". I'm sure they'll never lose their way again.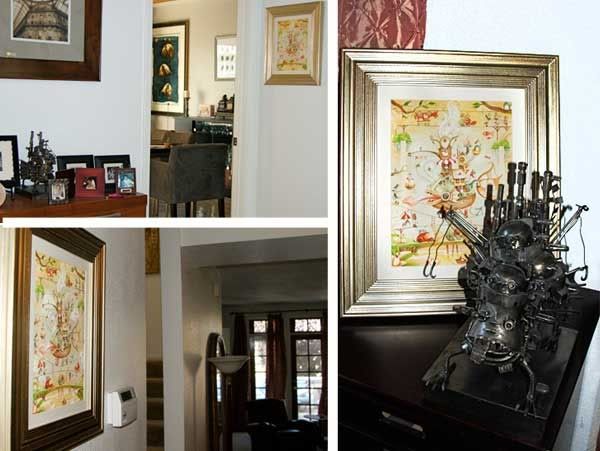 The artwork at friend's house. I'm envious of her Howl's Moving Castle sculpture!:D